It is a normal sense of comfort if you live in a wide and spaced house. In this article we will provide you some tips and tricks to achieve this. Believe it or not, there are lots of people having the same problem. They have to deal with making whatever things to enlarge the small place where they live. It is often to see people thinking more than once before purchasing a new couch or placing stuff so they can have their space tidy. As you are sharing this same problem with others, here you will find some useful tips for enlarging spaces at home.
Color in first place
And it really is the first step if you are planning a remodeling project. We even date to say that painting your house's walls is the most important step in order to carry out space enlargement. Maybe you like most intense and bright color, just because you have seen it in magazines, soup operas, television series or even that's how your neighbor has just painted her house, but if it so, it is probably because your neighbor or the television production would not have lack of space. In fact, in order to deal with this kind of problems, it is better to choose light color for painting the walls. It is proven that light color give a sense of spaciousness and freedom. So, if you select white, for example, don't forget the ceiling.
This statement is also applied for the furniture. You should better use light-colored couches and tables in accordance to the walls. If you still feel enthusiastic for brown and dark colors, all you are doing then is reducing space to your home.
Mirrors
Use a large mirror and place it on a wall which is lack of any other decoration or embellishment. This is a well-known trick if you need to make your house look wider than it is, because it will reflect both the environment and the incoming light from the windows, making the room seem much larger.
If you choose to follow this tip, we also recommend not placing more furniture and decorations that could affect the global vision of the room, looking overloaded.
The lounge room
Lounge rooms are the place where your guests enjoy their visit most, so it is important to make this room as spacious as possible. Regarding the arrangement of the furniture, if your lounge room is small, it is better that there were no visual separation between this room and the dining room. This option is highly recommended on lounge room spaces up to 25 square meters. If this is not your case, you can visually separate the two spaces. Use small furniture, bookcases without back and not reloaded with books, or using carpets to delineate space.
The kitchen
A practical and efficient solution trend is rooms open to the kitchen. Undoubtedly, it is the way that your space, if small, seems larger. If you remove the wall that separates them, you will get a bigger kitchen and a larger living room and/or dinner room.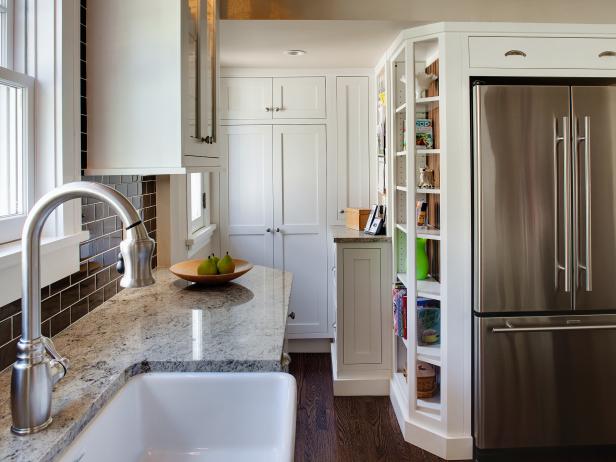 Of course we are aware that maybe it is not the best solution that would convince everyone, especially because of the fear that the cooking odors would invade the living area. If you prefer to have a lone space for cooking, use the space you have in the kitchen with furniture to the roof, a folding table, and even steel and white as the main colors in furniture and appliances.
The bathroom
This is another room in the house that can be a bit overwhelming. However, you need to consider several factors it can be achieved to create a sense of spaciousness that would give you some wide visual relief. For starters, if we do not have space, it makes sense to remove the bidet, a toilet which although deeply rooted through Spanish culture, it does not usually give much usable purpose. In the same line, you should replace the bathtub for a shower cubicle. In addition, it is always advisable to establish uniform color tones in order to not overload visually the space. You can try also the mirror trick as described above.